Sydney FC - Makin' it rain
Sydney's ACL kit.
Oi Oi Edgecumbe... lets have a clean sheet
Not surprised after seeing it on TV
Blow for Sydney FC as their #aleague and AFC Champions League campaigns collide - Danny De Silva ruled out for 3-4 weeks with a hyperextended elbow.

— Vince Rugari (@VinceRugari) February 28, 2019
I'm an optimistic pessimist. 
I'm positive things will go wrong.
Not surprised after seeing it on TV
Blow for Sydney FC as their #aleague and AFC Champions League campaigns collide - Danny De Silva ruled out for 3-4 weeks with a hyperextended elbow.

— Vince Rugari (@VinceRugari) February 28, 2019
He is just squad depth at this stage, not really a huge loss.
Totally forgot about him. Good player in his day, a true hound.
VUW AFC - Victoria University Football for life
Sydney's kits for this season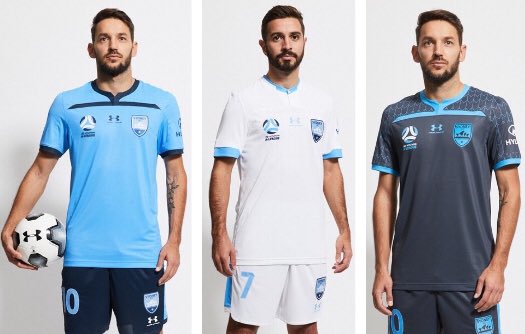 I like the white and the grey tops.
172 Consecutive "Home" Wellington Phoenix "A League" Games Attendee  
Sydney lose to PSG 3-0 overnight.
"Sydney FC unfazed by possible stadium delays Updated 2 hours ago As the main tenants of the football stadium that was built in 1988 for Australia's Bicentenary, the Sky Blues should be worried about the expected delays in the completion of the job.
But talking to the club you sense that they feel everything is under control because Jubilee Stadium has been a blessing in disguise for the Sky Blues and if they are forced to keep playing in Kogarah longer than anticipated it would not be the end of the world ... far from it. Sydney were told that the new ground would be available in late 2021 but it now appears that the completion timeline is more likely to be early to middle 2022. That's almost an entire A-League competition gone which translates to a total of three full seasons of relocation. 
Sydney however are so comfortable with their arrangement with Jubilee Stadium that they would not be unhappy to play there for five seasons should further delays in the stadium's construction materialise. "Our arrangement with Jubilee Stadium is a year-to-year proposition and Kogarah would love to have us for as long as we could possibly stay," Sydney chef executive Danny Townsend said. "If the construction of the new stadium takes longer than expected we will continue to play at Kogarah because it is working for us.
"The team loves playing there, the coach is happy and we are enjoying the interaction with the community and we don't see that changing. "So there is no rush for us although to be honest we cannot wait to get into our new stadium." But what about the fans? Will they put up with essentially not having a home ground for three or more seasons? Western Sydney Wanderers were hit by a considerable drop in gates when they were forced to play their home games elsewhere for three seasons while the old Pirtek Stadium was pulled down and replaced by the magnificent $360 million Bankwest Stadium. Sydney FC however do not see a parallel with their crosstown rivals' predicament. 
"The fans love it. Our membership is up, our retention rate is the highest in the club's history and the churn rate (non-renewals) is lower than it has ever been at our club," Townsend said. "Normally you get 15 per cent of members who do not renew ... this year we had a nine per cent churn. So we are happy and there is absolutely no cause for alarm." 
The demolition of Allianz Stadium, which hosted many FIFA World Cup qualifiers and A-League grand finals, has been the topic of a massive controversy since it was announced just before the NSW election in March that it would be pulled down and rebuilt at a cost of $730 million. An injunction was sought to stop the demolition of the ground but the wrecking ball went to work early this year before its developers 
Lendlease exited the scene, leaving the government with a massive hole in the ground and no contract in place for a builder to fill it. When the stadium will be finished is anyone's guess but the government's record in such issues is favourable. Bankwest Stadium was finished on time and on budget and Sydney are entitled to expect that the new 'Allianz' will follow suit. This could well be a classic case of wishful thinking but in any case the Sky Blues are happy where they are and are not under any pressure to go back 'home'."

https://theworldgame.sbs.com.au/sydney-fc-unfazed-by-possible-stadium-delays
  Supporter For Ever - Keep The Faith - Foundation Member - Never Lets FAX Get In The Way Of A Good Yarn
 Barcelona academy school's sudden closure in Australia.
Reigning A-League champions Sydney FC are set to lend a helping hand to the families of several young Barcelona academy players caught out by the school's sudden closure in Australia.
  Supporter For Ever - Keep The Faith - Foundation Member - Never Lets FAX Get In The Way Of A Good Yarn