CahillTex Socceroos
For want of any other place to put this, I see a big game in Japanese football this weekend.
Last round of J1 League.
Ange Postecoglou's Yokohama F Marinos (1st, 67 pts & GD +27) host 2nd placed Tokyo (64 pts & GD +20).
So would take an almighty choke by Marinos to not be crowned champions. On a 6 game winning streak, over a pressurised end to the season.
Think I read somewhere that Marinos compared to some of the other J1 clubs, have a sufficiently lower budget.
Finished 12th in his first season (2018) in charge.
Impressive club coaching record Postecoglou, surely up with the best to ever come out of Aussie.
Yokohama clinch J League title in style with a 3-0 win over nearest rivals Tokyo.
Finish 6 points clear. 
Congrats to Ange Post.
Wonder if he is on coaching radar of any bigger European clubs. From memory he coached a 2nd tier Greek side at one stage, before coaching in the A League.
After earning 80 caps for Australia, Mark Milligan has officially announced his retirement from international football. #ThanksMillsy

— Caltex Socceroos (@Socceroos) December 9, 2019
New Socceroos moniker required when Caltex switches to Ampol. Now that's a brand name from the past; from memory it's an acronym: Australian Motorists' Petrol, Oil and Lubricants ????
Australia U-23 Men's National Team Squad | AFC U-23 Championship Thailand 2020
| | |
| --- | --- |
| Name | Club, Country |
| Keanu BACCUS | Western Sydney Wanderers FC, Australia |
| Daniel BOUMAN | SC Cambuur, Netherlands |
| Trent BUHAGIAR | Sydney FC, Australia |
| Gabriel CLEUR | U.S. Alessandria, Italy |
| Nicholas D'AGOSTINO | Perth Glory FC, Australia |
| Thomas DENG | Melbourne Victory, Australia |
| Zach DUNCAN | AGF Aarhus, Denmark |
| Ben FOLAMI | Ipswich Town FC, England |
| Denis GENREAU | Melbourne City FC, Australia |
| Alex GERSBACH | AGF Aarhus, Denmark |
| Thomas GLOVER (Gk) | Melbourne City FC, Australia |
| Thomas HEWARD-BELLE (Gk) | Sydney FC, Australia |
| Jordan HOLMES (Gk) | Ebbsfleet United FC, England |
| Jacob ITALIANO | Borussia Monchengladbach, Germany |
| Joshua LAWS | Fortuna Dusseldorf II, Germany |
| Connor METCALFE | Melbourne City FC, Australia |
| Tass MOURDOUKOUTAS | Western Sydney Wanderers FC, Australia |
| Ramy NAJJARINE | Melbourne City FC, Australia |
| Aiden O'NEILL | Brisbane Roar FC, Australia |
| Connor O'TOOLE | Brisbane Roar FC, Australia |
| Rene PISCOPO | Wellington Phoenix FC, Australia |
| Dylan RYAN | Willem II Tilburg, Netherlands |
| Al Hassan TOURE | Adelaide United, Australia |
Have we got his brother? Reno?
Oi Oi Edgecumbe... lets have a clean sheet
Piscopo starts for the Olyroos tonight.
Piscopo opens the scoring with a stunning free kick 
That was his last kick of the game as he was subbed off afterwards.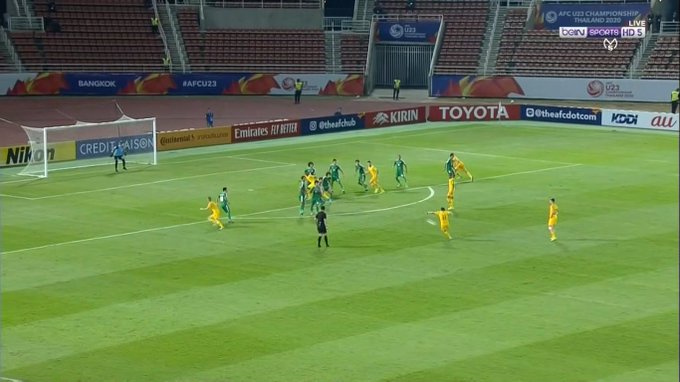 He hit that from Wellington!
Olyroos come from behind to win 2-1, brace by Daggers. Piscopo picked up the assist for their first.
Got another assist this morning for the goal v Bahrain. 2 assists (and the 'pre-assist') and a great free kick for Piscopo so far - he's carrying this team.
a.haak

Subbed off at 99 mins, as Olyroos beat Syria U23 by 1-0 in ET.
Toure with the winner at 101 mins.
Arnie's Olyroos with 57% possession, but Syrians more shots on goal.
In the semis they will play winner of South Kora v Jordan QF.
Need to win that, or lose and win the 3rd placed playoff to make Tokyo.
All in all means Piscopo definitely misses the Newcastle game.
Piscopo benched for the semi
Olyroos are off to Tokyo.
Beat Uzbekistan 1-0, in 3rd/4th playoff. Goal D'Agostino (47 mins).
https://www.socceroos.com.au/news/australia-u-23s-qualify-tokyo-2020-olympic-games
Uzbeks had a sub come on at 53 mins, only to be sent off 6 mins later! Costly.
Piscopo replaced at 86 mins. He's had a lot of playing time in the Thai heat and humidity, so will probably appreciate the week off with his Nix team mates. Started 5 of the Olyroo's 6 games over 2.5 weeks. Only game he didn't start (still got 25 mins off the bench) against Sth Korea, they lost.
Can Olyroos be in same pool as Oly Whites in Tokyo?