EPL Standings
I notice that the Premier League table is throwing up a few suprises so far for the 07/08 season. Arsenal are in front by a meagre 0 points, over Aston Villa, who are close behind on 0 points.
Surprisingly Chelsea sit in sixth, and Manchester United further back in 12th! However these teams should be able to make inroads into the points differential of 0 points to first place.
Tottenham are looking to get out of the relegation zone, as are Wigan and West Ham. These teams all need to secure all three points to garuntee a move off the bottom of the table.
An exiting season so far. . . .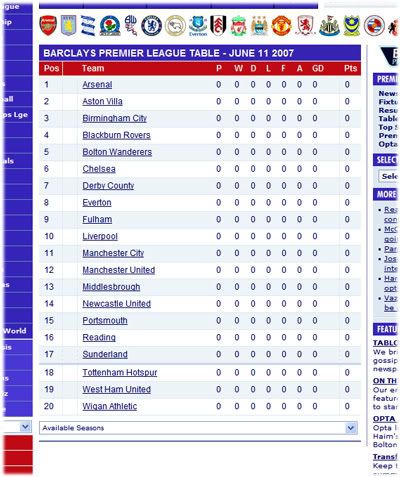 phil_style2007-06-19 16:24:07
sh*t, the brum scum are right behind us!!!
but the sad point is that the hammers are in the relegation area again. lift you hammers!
and i didnt think that Derby would be so far up already!
looks like this ELP season is going to be a noodle scratcher
Lol, take that Manchester United, Chelsea, and Liverpool, we are ahead of you.
You cant just pick and choose which laws to follow. Sure Id like to tape a baseball game without the express written consent of major league baseball, but thats just not the way it works.-Hank Hill
Its not the first time, and it wont be the last
Oh sh*t...I can't go through another season like that.
Oh sh*t...I can't go through another season like that.
you won't have to go through another season like that, in the CCC you'll be in the top third of the table...